---
This case is for a young man who had a hopeless central incisor that was extracted and immediate placement was done with an immediate provisional restoration.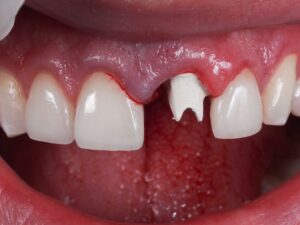 The implant system is the Straumann Bone Level implant. The provisional abutments that come with that system are very good. They have a metal implant abutment connector with a PEEK plastic post portion that is fat enough to sculpt for an appropriate emergence profile for soft tissue support.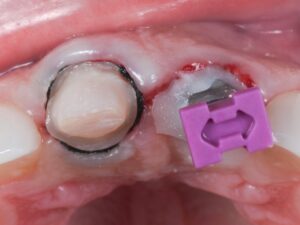 The treating doctor lined the transfer abutment to fit and support the shape of the provisional crowns emergence. This helps us to create an abutment that will support the tissues the way the provisional crown did. We work very hard to create custom abutments that enhance the soft tissue result. This case got a Straumann Zircon Abutment that we designed on Straumann's Etkon Scanning system. The crown for the Implant is from an e.max core that we layer with porcelain to create depth and to add various effects.
Tooth #8 is a redo of the patient's existing laminate. This was also done in e.max that was layered. Matching the shade of the laminate and the crown can be quite a challenge, especially if we try to finish them both at the same time. It is often a better strategy to finish the crown first and then finish the laminate. For this case, the patient waited in the treatment chair while Shoji rebaked one of the superficial layers of the implant crown to get the degree of translucency/greyness just right.