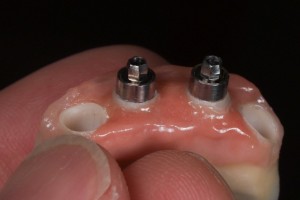 This case demonstrates the use of pink porcelain to fill in a significant bone and soft tissue defect.  Gingival shade tabs are necessary to give the porcelain technician a reference point to help match the gingival shade.  Pink porcelain and be further blended intra-orally with the use of pink composite resin for very demanding cases.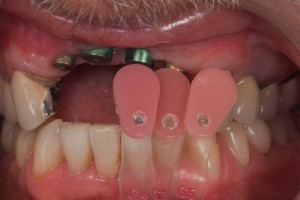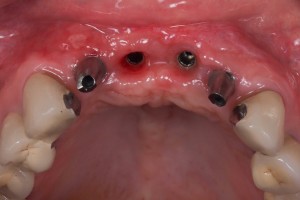 The design of this case utilizes both the cement retained technique with a screw down/retrievable technique.  The 8 and 9 implants access holes came through the lingual of the teeth so we were able to have a screw retained restoration for those locations, but the 7 and 10 implant access holes were angulated too far labially and would penetrate the facial of the restoration if we tried to make it screw retained.  So, we elected to have the 7 and 10 locations cemented in place with a provisional cement on milled Ti abutments, and the 8 and 9 locations screw retained.  This allows us to have the best of both.  Notice that the 8 and 9 location abutments are stock abutments that are cemented into the zirconia frame.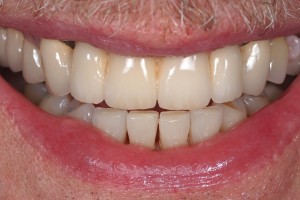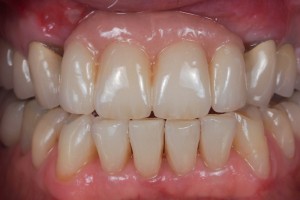 The final result shows lots of nice internal detail in the porcelain of the "autumn" teeth.