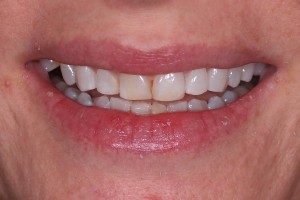 The pre-op view shows the patients misaligned teeth and old composite patches.  The treatment goal was facilitated by first doing Invisalign to place the teeth in the proper postions allowing for more ideal tooth preparation.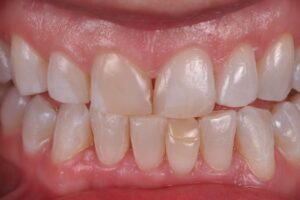 The tooth preparations included many areas of interproximal composite which was removed so that all porcelain margins would be bonded to enamel, not old composite resin.  Additionally, the marginal gingiva was recontoured apically to lengthen as needed in areas where the gingival margins were not the same on the left and right.  Even small marginal gingival height discrepancies throw off the balance of the final result, no matter how beautiful the porcelain.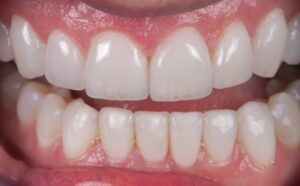 The patient's final result was consistent with her treatment goals, which were to have whiter teeth that were well aligned and that fit her facial features better.  This patient had large beautiful facial features, but her teeth were small.  Teeth that were longer and fuller were more fitting to her.